Where to Park
Christmas & Advent Parking
During the Lessons & Carols services and all Christmas Services, additional parking will be available at the White Earth Nation Lot (1730 Clifton Office Building), and The Women's Club parking lots on Oak Grove.
Sunday Mornings
There are two parking lots available on Sunday morning. The first is next to the church at the corner of 15th Street. and Oak Grove. This lot tends to fill up quickly so don't get discouraged if you don't find a spot. If you turn on Clifton Ave (after first parking lot) and we have parking at the 1730 Clifton Office Building. Parking is available at the Women's Club parking lot – next to 333 Oak Grove St. There is also street parking available in the neighborhood.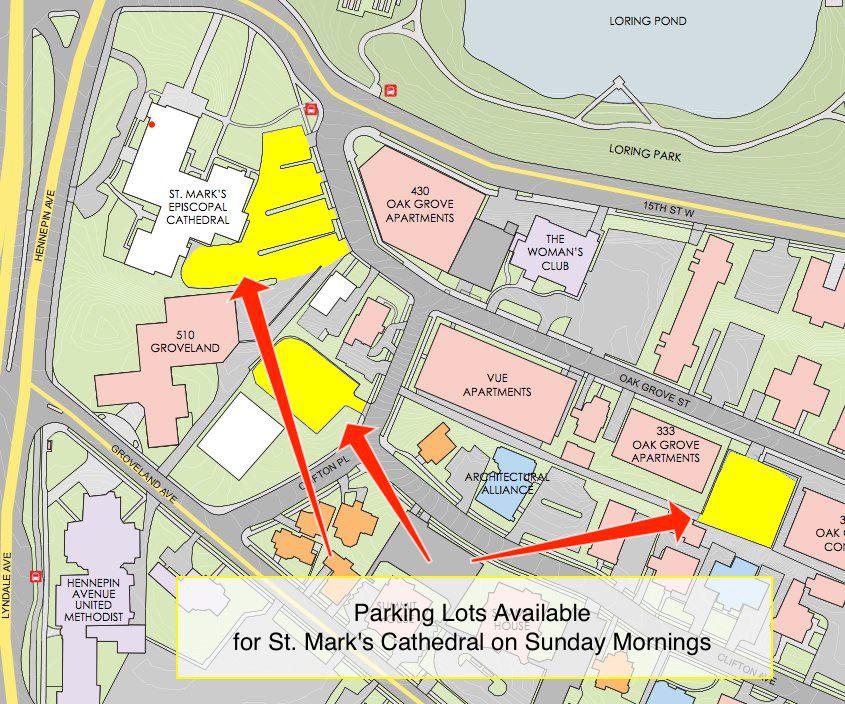 Bike Rack
Saint Mark's has a bike rack on the Hennepin Avenue side of the building as well as near the courtyard near the main parking lot.
Once you get out of the car
Like any one-hundred-year-old church that was built for congregants arriving by horse and buggy, getting to the sanctuary is not exactly intuitive. The easiest way to get in is walk around to the front of the church, up the steps, and enter through the main doors into the sanctuary. Most of our other doors to the building are open on Sunday mornings, and if you enter them, simply ask someone how to get to the sanctuary. Everyone has had their first time here, and they know that one can get confused and so are happy to help. During the week, our office door to the east of the Cathedral is open to greet visitors. The easiest way to enter is to park in the Cathedral (east) parking lot and follow sidewalk on north end by the handicapped parking.